Who we are
The ECSAC is a multidisciplinary institution created to foster a new concept devised at embracing science as a part of our culture and to stimulate culture and reciprocal knowledge and friendship amongst different peoples.
It promotes cultural events and offers hospitality to scientists in the island of Lošinj, in Croatia: the island is noted for its natural beauty where scientific activities, or even writing a book or an article, to create scientific collaboration, can be easily encouraged by the natural surrounding.
The ECSAC's headquarters is in Mali Lošinj, Croatia, while the Managing Committee and its secretariat are based in Italy, in Trieste, hosted by the Consortium for Physics at ICTP.
President
Franco BRADAMANTE, INFN, Section of Trieste / Consortium for Physics, Trieste
Secretary
Serena BALDINI, Consortium for Physics, Trieste
Members
P. AICHELBUTG, Institute for Theoretical Physics, Vienna
Marco BUDINICH, Trieste UNESCO Centre
Giovanni COSTA, University of Padua
Stefano FANTONI, Consorzio per la Fisica di Trieste
W. KUMMER, "Technische Univeritat" (VUT), Vienna
Luciano LAGO, Università Popolare di Trieste
N. MANKOC, University of Lubiana
Iginio MARSON, Trieste National Institute of Oceanography and Experimental Geophysics
Luigi MILAZZI, Trieste UNESCO Centre
Tullio MORIN, Mali Lošinj Community
Helmut MORITZ, Institut für Navigation und Satellitengeodäsie (INAS TUG), Graz
S. PALLUA, University of Zagabria
M. REDEI, "Lorand Eotvos University", Budapest
D. SIJACKI, University of Belgrade
Claudio SMALDONE BUSSANIC, Veli Lošinj Community
Attilio STELLA, Università di Padova
W. THIRRING, Erwin Schroedinger Institute (ESI), Vienna
Claudio TUNIZ, International Centre for Theoretical Physics
Andrea VACCHI, Trieste International Foundation for the Progress and Freedom of Science
Giuseppe VIANI, Trieste International Foundation for the Progress and Freedom of Science
Nicola ZOVKO, Zagabria Institut Ruðer Boškovic
The logo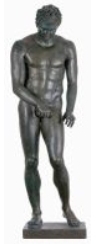 The logo is an etched image of the face of the bronze statue of Lošinj or Apoxyomenos found in 1999 at Oriule, in front of Island of Lošinj, where it was buried under the sand at a depth of 45 metres for 2.000 years.
The statue was completely isolated; it was found far from any other relics in the immediate vicinity. This makes us think that it was thrown at sea to lighten the ship's cargo either during a gust of wind or perhaps the Bora wind.
It's very impressive. It is 1.93 centimetres tall and probably represents an athlete drying his sweat after a race; it could be a roman copy of the original Greek one.
The delicate work of restoration, which lasted four years, was carried out by Hrvatski Restaurorski Zavod (Croatian Conservation Institute), in collaboration with the Science Laboratory of the Opificio delle Pietre Dure in Florence.